(Current picture of Mullane Motors Used Car Dealership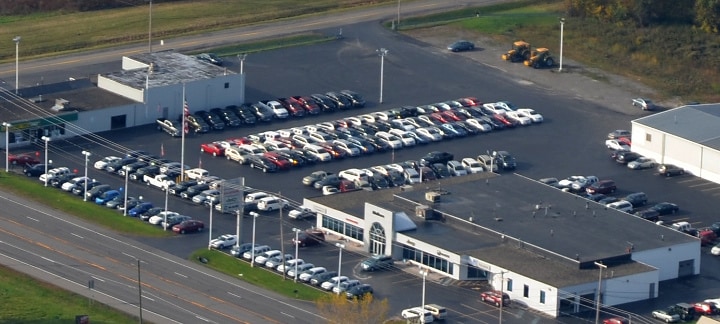 (Mullane Motors Car Dealership in the 1970s)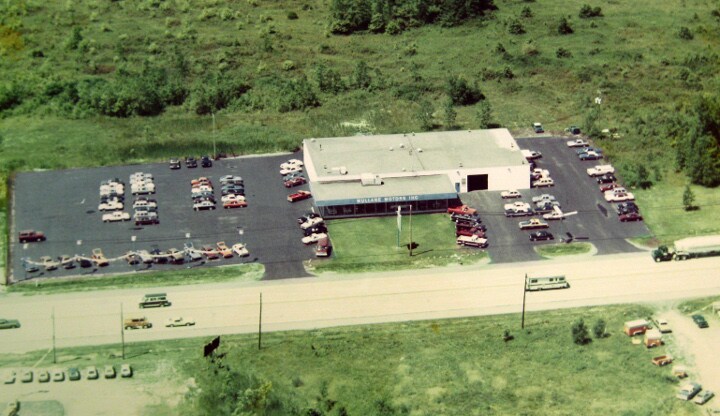 Used Cars Niagara Falls NY

For over 80 years Mullane Motors has been selling the highest quality new and used cars in the Niagara Falls NY area!
Mullane's used car dealership was originally established in 1928 in Niagara Falls NY which makes us the area's oldest car dealer. The pictures below show how much Mullane Motors Used Cars Niagara Falls NY has grown over the years! There are many reasons for our success. One of those reasons is the fact that we recondition our used cars better than any other dealers in Niagara Falls. On top of that, our prices are the lowest around.
This means you'll get the best vehicle for the best price from Mullane Motors. Check out our 100 point used car inspection check list below. Mullane's Auto Sales in Lockport has a great selection of new and
used cars near Lewiston NY
! If you live in the Niagara Falls, Lewiston, Lockport, or Ransomville NY area check out Mullane's for your used car needs.
Used Car Dealers Niagara Falls NY
We work harder than any other used car dealers in the Niagara Falls NY to get you behind the wheel of just the right vehicle. At Mullane Motors customers are the priority. Even if you have bad credit, we will do whatever we can to get you approved and on the road in no time! Our used car dealership has a tremendous selection and wide variety of used cars for sale. Mullane used car dealers Niagara Falls NY has very knowledgeable car sales associates that can answer any questions you may have. If you're looking for a used car in the Niagara Falls New York area check out Mullane Motors 6200 S. Transit Rd. Lockport NY! From Niagara Falls just take Lockport Rd. East until you hit Transit Rd and make a right. We are just a short ways up on your right-hand side.
THE 100 POINT INSPECTION EACH USED CAR MUST PASS TO BE SALE-READY
INTERIOR:



Air Conditioner

Radio

Speakers

CD or Cassette Player

Interior Lights

Heater Operation

Windshield Wipers

Rear Wipers

Windshield Washers

Wiper Delay Operation

Trunk Release

Windows: Power or Manual


Power Door Locks

Hood Release

Hazard Lights

Cigarette Lighter

Glove Box

Compass

Rear Defroster

Horn

Blower Motor Operation

Emergency Brake Release

Seatbelts and Retracters


 UNDER THE CAR:



Fuel Tank

All Wheel Cylinders

Clean Brake Shoes

Adjust Rear Brakes

Brake Lines

Brake Hoses

Catalytic Converter

Exhaust System

CV Joints

CV Boots

Shock Absorbers

Motor Mounts

Struts

Tie Rod Ends

Rack and Pinion

Emergency Brake

Ball Joints

Check for Oil Leaks

Sway Bar

Fuel Lines

Tire Pressure and Wear

UNDER THE HOOD:



Air Conditioning Unit

Radiator and Hoses

Check all Belts

Under Hood Lights

Engine Performance

Vacuum Hoses

Spark Plugs

Alternator

Charging System

Carburetor Adjust

Ignition Timing

PCV System

Emission Controls

Ignition Wires


Distributor Cap & Rotor

Clean Battery Cable

Test Battery

Brake Fluid

Change Oil & Filter

Lubricate

Transmission Fluid

Washer Fluid

Coolant Level

Power Steering Pump

Differential Fluid

Power Steering Fluid

Check Air & Fuel Filter

Lube all Body Hinges


 EXTERIOR:



Door Locks

Trunk Lock

Windshield Glass

Wheel Locks

Body Side Moldings

Fuel Door & Lock

Wheel Covers

Headlight Alignment

Inspect all Glass

Check all Mirrors

Spare Tire-Jack & Wrench

Lights: Head, Tail, Turn Signals, Brakes, Reverse, License Plate


TEST DRIVE:



Alignment

Cruise Control

Engine Performance

Rims

Tire Tread

Tire Rotation (if needed)

Instruments

Gauges

Noise Levels

Wheel Bearings

Steering Controls

Transmission Performance

Clutch Operation





Appearance

Clean Exterior

Clean Interior

Clean Trunk

Check for Air Leaks

Check for Water Leaks

Check Neutral Safety Switch


 
Usedcars Niagara Falls Lockport NY
Check us out if you're looking for usedcars in the Buffalo Niagara Falls or Lockport NY area. We have a large and diverse selection of vehicles, and we price our vehicles competitively. We'll do whatever it takes to earn your business. We perform an intense inspection on each used vehicle which you can view above. It's easy to tell that we take pride in our vehicles. You can see our entire
used car inventory
here.
Used Auto Sales Niagara Falls NY
Niagara Falls' best used auto sales are at Mullane Motors. You won't get a better deal at any other used car dealers in Niagara Falls NY area or beyond! We have the best selection and best quality used cars for sale in WNY! Our used auto sales professionals are friendly and knowledgeable. We will do whatever it takes to earn your business.